How to wash a cross-stitched embroidery piece if it is stitched over a chart printed on a canvas
Such Chinese needlecraft suppliers as Mona Lisa or Classical Cross Stitch produce embroidery kits with symbolic charts printed directly on the canvas. Colors of the symbols are different from colors of the threads that you use to stitch over the symbols. The chart remains partially visible after the embroidery work is completed. To get rid of the underlying paint the finished embroidery should be thoroughly washed.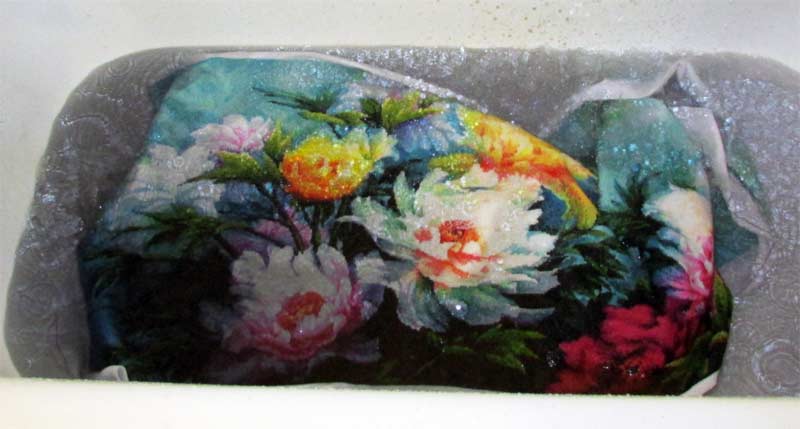 You need to prepare a large container. It should hold enough water to submerge your embroidery. Bathtub is large enough! Different kinds of ink are used for printing charts on canvases so some pieces might require more soaking time than others. It is recommended to soak your piece at least for 30 minutes in cool water (70 degrees Fahrenheit or less).
After that gently wash it, rinse with large volume of cold water then wash with bleach detergent or liquid soap added, and rinse again. Hang your embroidery piece on a hanger or on a line, let the excess water to run off. Spread the embroidery on a large thick towel, and let it dry. Iron the back side while your piece a damp.
Tips, Tricks, Free Patterns, and Stitch Along Projects in Cross-Stitch and Hand Embroidery