Substituting Threads in Cross-Stitch Kits
It is always fun to experiment with colors of simple embroidery designs with a small number of colors. I often spend unnumbered threads and kits leftovers to stitch bookmarks, greeting cards, napkins, bread covers, table runners. I choose the colors to compliment other items that will be displayed along with the embroidery piece. It is much harder to change thread colors in more complex cross-stitch designs. Embroidery software is a great help if you wish to change, let say, a color of one flower from red to yellow, or make a cat's eyes green instead of orange.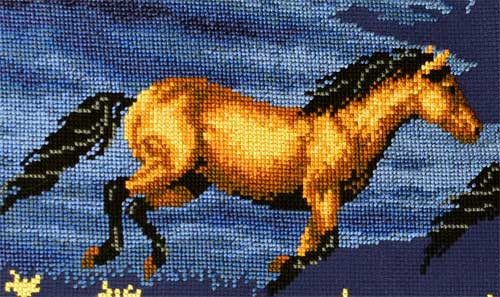 For rare and retired kits it might be much cheaper to buy remnants of already completed kit , and buy threads available in craft stores. There are printed charts available for sale on Amazon and other stores to help stitchers with thread substitution. I completed four of Dimensions designs which were acquired as cross-stitch kit remnants. The finished pieces came out beautifully. When I compare them to pictures of the designs, stitched using original threads, I can see slight difference. If you decide to substitute threads it would be a good idea to test color transitions on a separate piece of fabric before using the threads to stitch your masterpiece. Especially important to test such areas as people's faces in order to avoid spotted areas in places where smooth transition of colors required. Here is a Thread Conversion Chart that I use for Dimensions thread substitution. It converts Dimensions thread numbers to DMC, Anchor, and J&P Coats colors.
A couple of years ago I started a project for which I have substituted Dimensions threads by DMC floss. Later I bought the whole kit. It is "Thunder Ridge" by Dimensions. I am working on two versions of the same design. It is hard to say which version is better. Below are fragments of the projects.
I also plan to complete one chart sold by Dimensions in two types of threads. The chart uses DMC and Anchor threads. I wonder how different the results are going to be. If you have already tried to stitch any Dimensions chart in different types of threads, please post pictures of your projects here.
Tips, Tricks, Free Patterns, and Stitch Along Projects in Cross-Stitch and Hand Embroidery