Cross-Stitch Kits from Russia and Ukraine.
I am very glad that e-bay stores as well as some online craft suppliers sell cross-stitch kits manufactured in Russia and Ukraine. A couple of years ago I had to ask my Eastern European friends to buy and to mail the kits I liked to the USA. I would like to share my experiences with the following cross-stitch kit manufacturers: RIOLIS, GOLDEN FLEECE (Zolotoe Runo), ALISA, CHARIVNA MIT. I think those are the biggest companies in Russia and Ukraine which produce embroidery kits.
RIOLIS is my favorite kit manufacturer. I find their patterns to be well designed, without unnecessary colors and without stray (lonely) stitches. The threads are good in their kits. Two types of threads are used in their kits: wool/acrylic and cotton. An embroidery piece stitched with wool has a warm and cozy feel. The fabric they use is good in those kits that contain wool/acrylic yarn. But the holes in the fabric are too big to stitch with cotton thread. I would recommend substituting it with Aida fabric if you buy an older kit containing cotton threads. Newer kits are made with good quality Zweigart fabric.
CHARIVNA MIT produces nice kits with good quality fabric and threads. I liked quality of their patterns as well, but they are a little more complex and may contain some excessive colors. The patterns are much better than Bucilla's patterns. CHARIVNA MIT makes wonderful beaded kits too.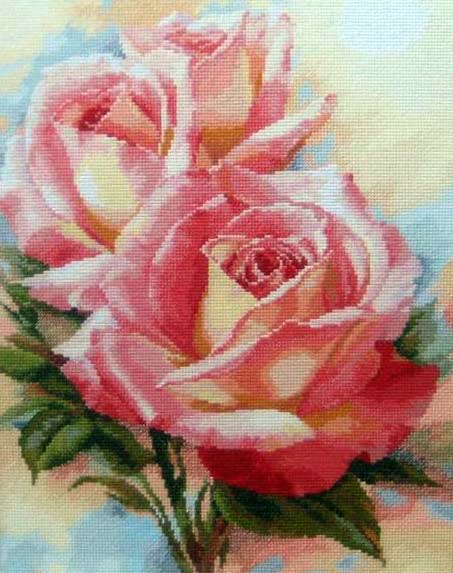 GOLDEN FLEECE (Zolotoe Runo). Some of their patterns are good, but some patterns contain too many excessive colors. The designers did not spend enough time on some patterns to make them easier to work on. They use quality threads and fabric in their kits.
ALISA makes lovely kits. The fabric, threads, patterns are without complaints. It is a relatively new company and they are trying their best to stay in business.
Tips, Tricks, Free Patterns, and Stitch Along Projects in Cross-Stitch and Hand Embroidery