Framing your needlework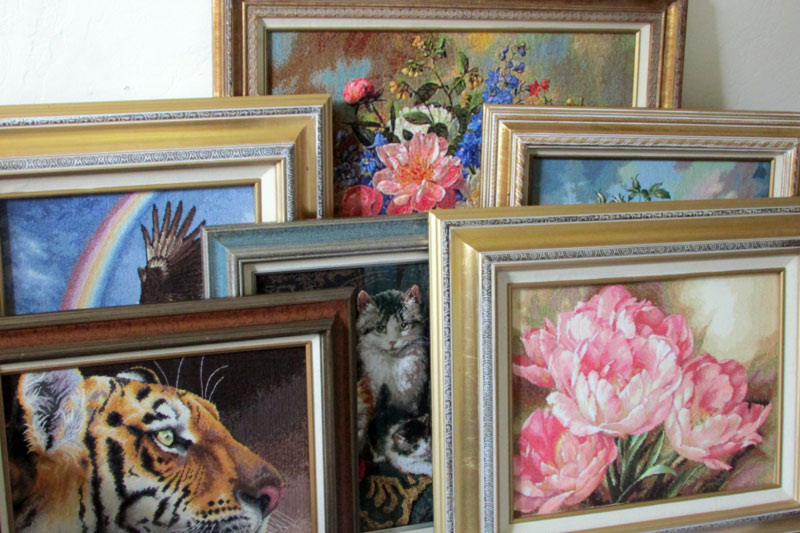 I always frame my pieces myself. You may have the cross-stitch masterpiece professionally framed. If needed, gently wash the needlework in warm water with liquid dish soap. Thoroughly rinse with cold water, and hang to trickle down. Do not squeeze to accelerate the drying process. Place the embroidery piece on a towel face down. Iron the back side of the piece. Place a paper towel or thin fabric between the iron and the embroidery piece. This will prevent melting synthetic threads if you used them. Keep the corners straight when ironing the canvas. This helps the piece from distorting.
Center the dry embroidery piece on the mounting board. If your piece is bigger than the board use a staple gun or double sided scotch tape to affix the canvas onto the mounting board. If your mounting board is smaller than your needlework, envelop the board and sew opposite sides of the embroidery together on the back. To keep embroidery in place, tape the canvas to the board with a scotch tape.
Clean both sides of your glass with a glass cleaner. Once you have cleaned the glass, make sure the glass is dry. Turn your frame face down. Insert the glass into the frame opening. Insert the prepared matboards. Insert the mounted needlework into the frame. Close the back side of the frame with a piece of cardboard. The cardboard piece should be large enough to allow nailing it to the frame. Use small nails or pins.
Any frames can be used for framing embroidered masterpieces. I have found that natural wood frames are the easiest to work with. Wooden frames allow nailing the backing to the frame and screwing in hooped screws. After ten years of buying art frames from random stores I found a supplier that satisfied all my needs. One frame type that I like the most is called Aristocrat. It is used to frame larger embroidery pieces. Colorwise it goes well with any picture colors. For contemporary art pieces I recommend choosing a simple style. The Aristocrat frame has an opening which is deep enough to fit in a museum glass, a mounted embroidery piece, and backing cardboard. Below is a picture of a 12 inch by 16 inch embroidery piece framed into an Aristocrat frame.
There is also a way to display your needlework even if you do not want to frame it.
Tips, Tricks, Free Patterns, and Stitch Along Projects in Cross-Stitch and Hand Embroidery