How did Neanderthals cook their cereals?
While researching history of crafts I discovered intriguing data on Neanderthals and Neanderthal diet.. Neanderthals were species of humans which lived around 140 000 years ago and became extinct around 30 000 years ago. Remains of 12 Neanderthal's were recently discovered in Spain in a cave at El Sidron. Scientists analyzed the 43, 000 year old remains, which permitted them to determine the 12 Neanderthal's diets.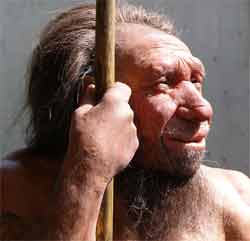 Researchers subjected dental calculus of the excavated Neanderthal teeth to microscopic and chemical analyses and found out that the Neanderthals ate cooked cereals and other plant food. Neanderthals knew how to start and build fires. There is no evidence that Neanderthals' knew how to make pottery or use cooking pots. So how did Neanderthals' cook cereals? Neanderthals' would grind cereals between two rocks and place the ground cereals on top of heat stones. Neanderthals' would take the cereals, stuff the cereals into birds or small animals and bake them between hot rocks. Neanderthals' would wrap the ground cereals in leaves and bake or roast the leaves in live embers. Neanderthals' were avid hunters. Nothing was put to waste. Did Neanderthals use animal skulls as pots to boil water, to cook grains, to cook vegetables? That's a good question. Below is a site of interest in regards to Neanderthal diet: Neanderthals cooked vegetables and used plants for medicine.
Tips, Tricks, Free Patterns, and Stitch Along Projects in Cross-Stitch and Hand Embroidery