How to Use Variegated Threads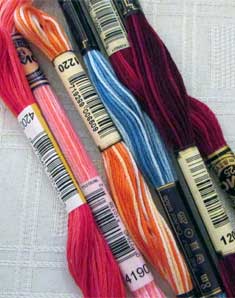 I imagine how people started dyeing natural fibers and could not achieve uniform dyeing. They probably graded those fibers as defective rejects. But masters of embroidery turned that imperfection into advantage. If used in a right way variegated threads look naturally beautiful. The variegated threads look great if used to embroider flowers, leaves, stones, clouds, water and other elements of nature. It is not an easy task to achieve such an effect with plain colors.
Variegated threads are useful for creating stained glass effects. The only restriction is that the elements of a design should be as small as 4- 10 stitches across. For larger elements several plain colors should be used to create color gradient instead of variegated color. The other trick is to cut a thread in certain way. When one length of thread is finished, the next one should start with the same shade as the ending part of the previous strand.
Martina Webber (Chatelaine Designs) uses tons of variegated colors in her cross-stitch mandala gardens. I also find attractive those designs where variegated colors used in combination with plain especially contrasting colors.
DMC, J. & P. Coats, Anchor as well as many other manufactures produce variegated cotton floss. Variegated silk fibers are also available at the market, such as YLI Silk Variegated Threads.


Tips, Tricks, Free Patterns, and Stitch Along Projects in Cross-Stitch and Hand Embroidery