Printed Canvas Cross-Stitch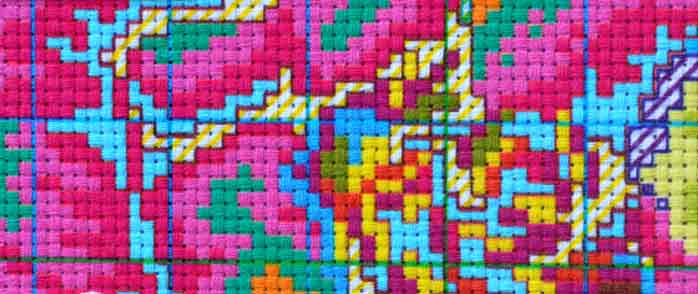 I just finished and hand washed the biggest embroidery piece in my collection. I ordered the kit from China. I wanted to try a canvas with a chart printed on it. And I liked the picture as well. The first picture shows an example of a cross-stitch chart printed on a canves.
There were several companies that sold similar kits. I found a picture of a completed project that had a size of 660х330 crosses, used 74 colors, and had a printed background. That project is shown on the second picture.
The Chinese seller claimed that he had this kit in stock, but he sent me a wrong kit. The kit that I received had the size of 600х246 and used 66 thread colors. The background was not printed on the canvas, I had to cover it with stitches. The threads looked nice, the colors pleased my eyes, and I decided to commit myself to this project even though the wrong kit was sent to me.
I purchased the kit in June 2015; it took me 11 months to complete, and I enjoyed working on it. The kit provided me enough threads. The threads are not cotton, they feel like acrylic fibers. Print on the canvas was precize. It did not fade. The chart was very easy to follow. The last picture shows my finished work.
The finished embroidery is 52" long. It does not look like the one that I wanted to buy initially. The colors are bright. I enjoyed working on it. I like the result.
Tips, Tricks, Free Patterns, and Stitch Along Projects in Cross-Stitch and Hand Embroidery